Cap +1 : les BTR ont 21 ans !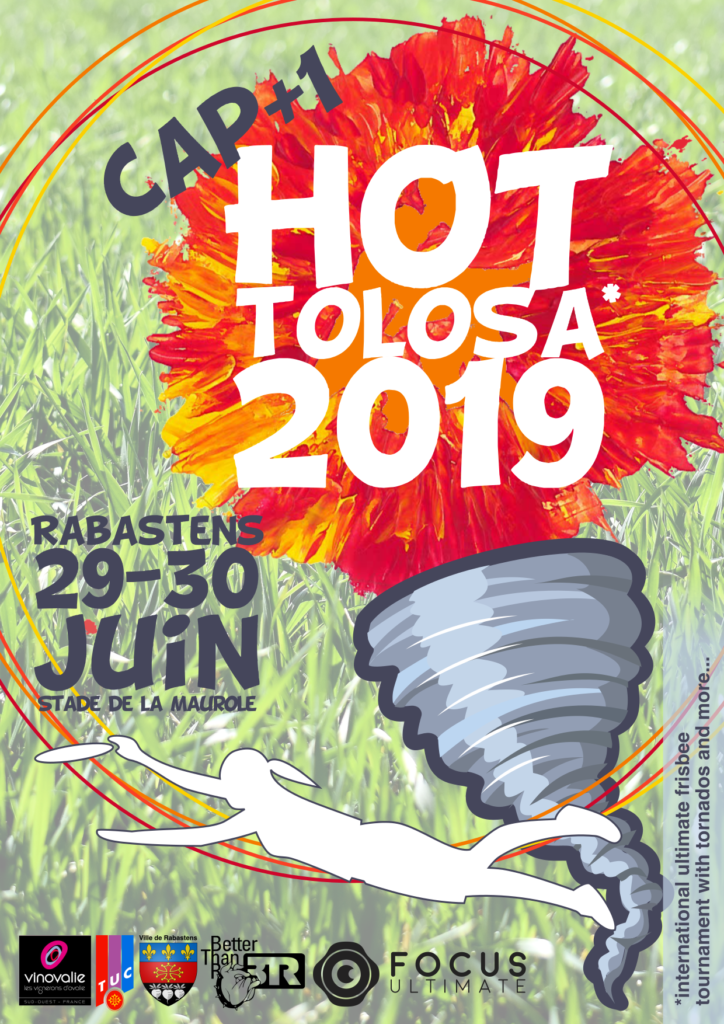 HOT Tolosa, plus qu'un simple tournoi d'ultimate, c'est l'assurance de passer 48h de sport, d'amour et de HOT au coeur du Sud-Ouest de la France. En 2018 vous y avez goûté, cette année vous ne pourrez vous en passer !
Cette édition aura de nouveau lieu à Rabastens (40 minutes au nord-est de Toulouse) les 29 et 30 juin 2019. Comme l'année dernière, on vous propose :
Match 45 minutes ou 13 points en loose mixte (1 ou 2 filles par ligne), sur 2 terrains.
Formule "Open Bouf" tout compris sauf les boissons : camping, welcome du vendredi, petits déjeuners, déjeuners, repas du soir, race, pack apéro et toujours un max de HOT !!!
Le HOT Tolosa ne connaît pas l'inflation :
Team Fee 50€
Player Fee 60€.
Pour vous inscrire : merci de remplir le formulaire avant le 30 avril : https://goo.gl/forms/bR8zt1ultH2DmdMl1
Il faudra ensuite procéder au règlement de 10 Player Fees dont au moins 3 filles avant mi mai, on vous redira tout ça en temps voulu.
En attendant vous pouvez bien sûr poser vos questions à hot.tolosa.btr@gmail.com mais n'hésitez pas trop : on compte sur vous pour mettre votre bière à l'édifice !
Toute l'actualité de Tolosa est à suivre sur la page de l'événement Facebook : https://www.facebook.com/events/2523989904564687/
No pain, no tartine
See you later, tartine au beurre
La S∙HOT Team
For english, here it is:
Cap +1: BTR are turning 21!
Hot Tolosa is more than a regular ultimate tournament, it's a guaranteed 48 hours of sports, love and HOTness in the heart of South-West France. If you got a taste of it in 2018, this year will be unmissable!
This year's edition will take place once again in Rabastens (40 minutes north-east of Toulouse), on the 29th and 30th of June 2019. Just like last year, we offer you:
45 minute or 13 point loose mixed games (at least 1 or 2 women or men per line), on 2 fields.
"Open bouf" (take a bite of fine French cuisine) an all-inclusive deal except booze: camping, Friday welcome party, breakfasts, lunches, dinners, "apéro" pack, more party and of course a LOT of HOT!!!
HOT Tolosa hasn't heard of inflation:
Team Fee 50€
Player Fee 60€.
If you want to join us, please fill in this form before the 30th of April: https://goo.gl/forms/bR8zt1ultH2DmdMl1
You'll then have to pay 10 player fees, at least 3 girls, before mid May. We'll get in touch when time comes.
In the meantime, you can send your questions to the hot'line: hot.tolosa.btr@gmail.com.
We're counting on you to make this great weekend even greater!
You can follow the tournament news on Facebook: https://www.facebook.com/events/2523989904564687/
No pain, no tartine
See you later, tartine au beurre
The S∙HOT Team